Labels on Chemicals: Non-Laboratory Areas
Main Content
Chemicals on campus at Southern Illinois University Carbondale must be labeled in accordance with the OSHA Hazard Communication Standard (29 CFR 1910.1200) unless they are in a laboratory. In laboratory situation the OSHA laboratory standard is used for labeling. If you are unsure whether you fall under the Hazard Communication Standard or the Laboratory Standard, contact the Center for Environmental Health and Safety.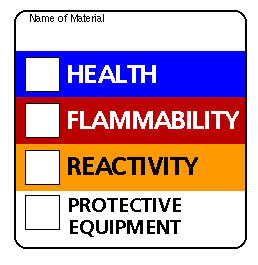 Containers of hazardous chemicals must be marked, labeled or tagged with the:
Identity of the chemical

Warnings showing hazards appropriate for employee protection.
The hazard warning can be any type of message, words, pictures, or symbols that provide at least general information regarding the hazards of the chemical(s) in the container. Labels must be legible, in English (plus other languages, if desired), and prominently displayed. 
Physical hazards examples:
Flammable

Combustible

Explosive

Reactive
Health hazards examples:
Irritant

Corrosive

Toxin

Sensitizer

Carcinogen